Yesterday we had a Japanese Calligraphy class!
Experiencing Japanese culture,
with the Glory Gate sister. 
We had a fun time writing!
They wrote their name and draw favorite pictures on a Hanshi paper! It was so much fun! 
They also wrote "future" so that it would be a year full of hope.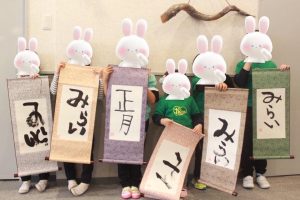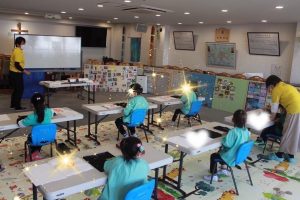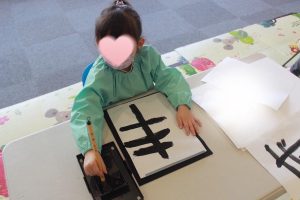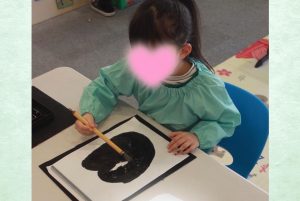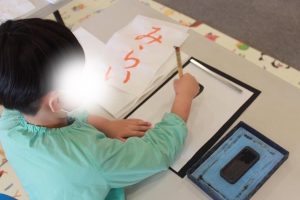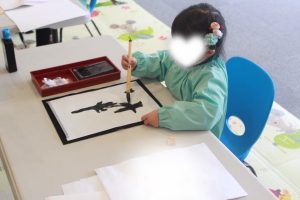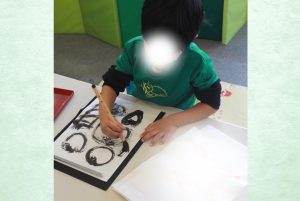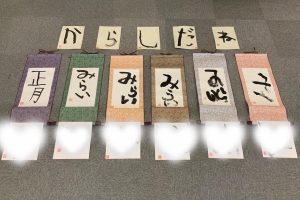 Today during Art & Craft, we made Christmas dwarves
The dwarves children made with their own expressions tell us that Christmas season is coming!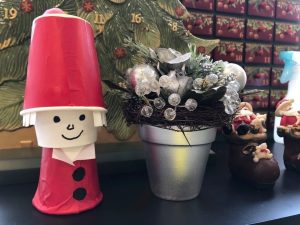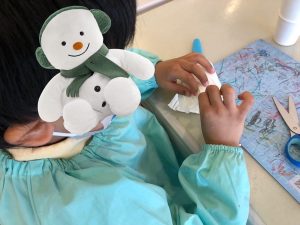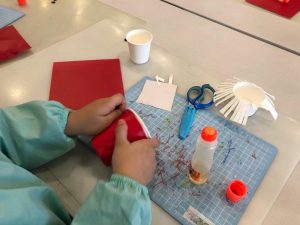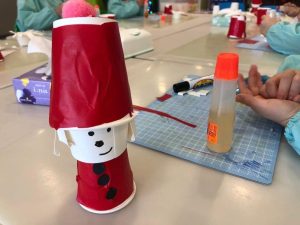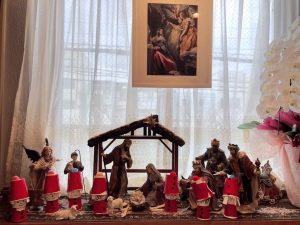 ---
November 2022
Today we harvested the turnips we planted in September!
The students exclaimed "Wow!" when they pulled out a cute white turnip from their garden 
Enjoy the taste of autumn at home that you grew yourself!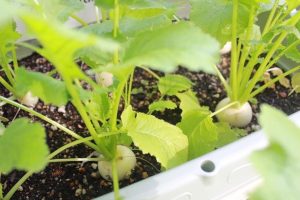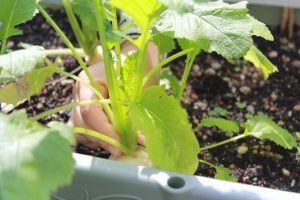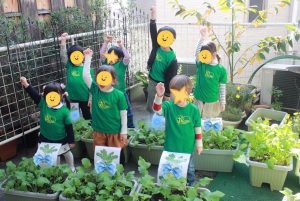 ---
November 2022
Today, we had threshing of rice stalk!
Taking off rice from the stalk and rub them with a ball in a mortar ♬
The shiny rice appeared.
The students were excited to taste them at home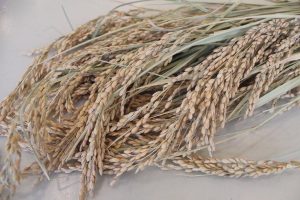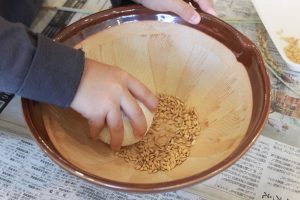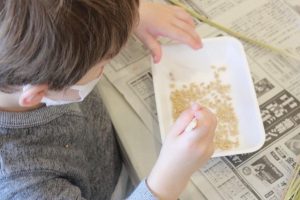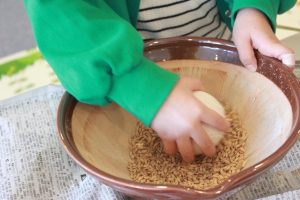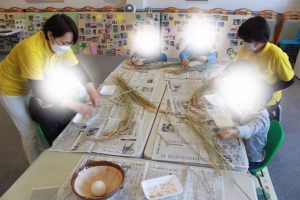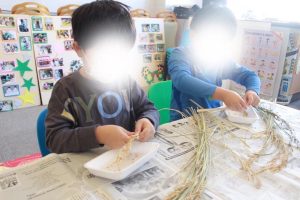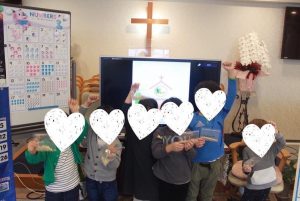 ---
November 2022
We had autumn health checkup!
A doctor from Kadono Sanjo Children's Clinic visited our school and carefully checked the children's growth and physical condition
After the check-up, the Doctor looked at the children's drawings and gave compliments,so they were all happy 
The children enjoyed the time with him!
Doctor, Thank you for coming!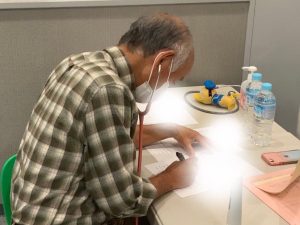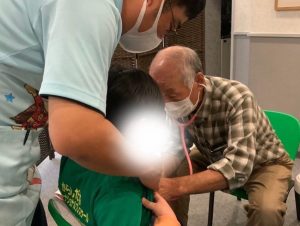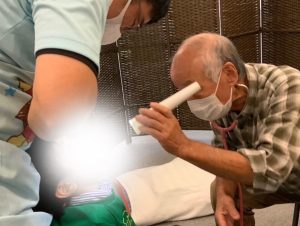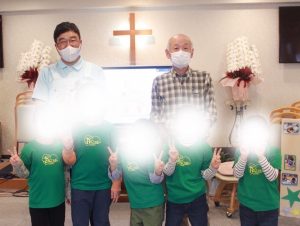 ---
October 2022
Fire drill was conducted under the supervision of fire fighters!
It started with the call "Fire!!" Everyone could calmly follow the instructions and safely evacuated. After the evacuation, the students learned how to use fire extinguishers and practiced to extinguish fire.
1. Pull off the pin 
2. Hold the hose 
3. Hold the lever and extinguish the fire All could extinguish the fire very well
At the end, we took photos with fire fighters and fire engines! Students were excited to see fire fighters and fire engines!

---
June 2022
Teacher Philip's special lesson was held from Singapore
Everyone was very interested in learning the name, texture, taste, etc. of tropical fruits that they had never seen in Japan. They were also curious as they watched Prawn fishing and Singapore safari park "River Wonders."  
On Friday, there was a question time with teacher Philip

---
June 2022
The students enjoyed playing with bubbles at the kids house of the preschool! They enjoyed making bubbles of different sizes and chased the bubbles blown by wind!! We had a great time!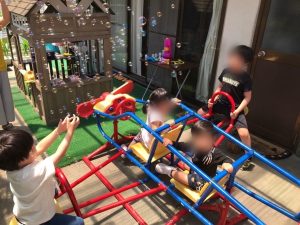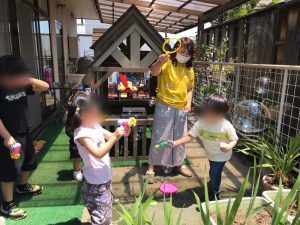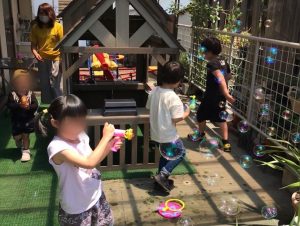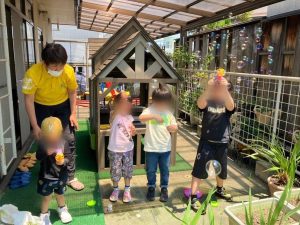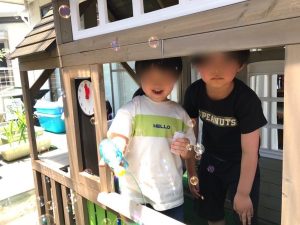 ---
May 2022
We had outdoor P.E. lesson in Keihoku Chapel! In beautiful nature surrounded by Kitayama Cedar, students enjoyed playing with a para-baloon, playing tags, and having many physical activities!  They also enjoyed delicious lunch!  We all had a great time!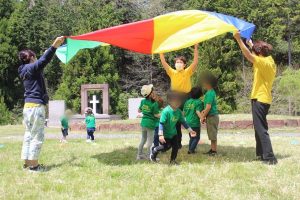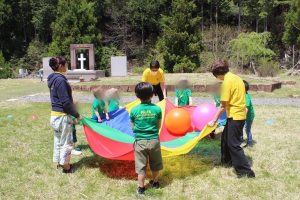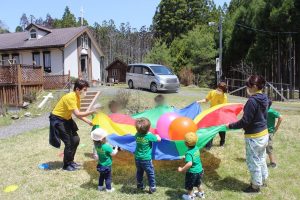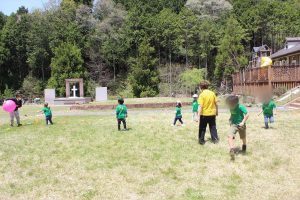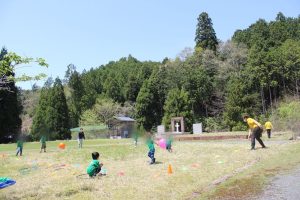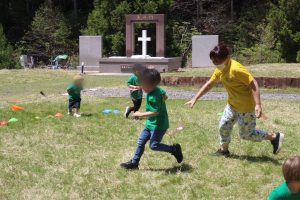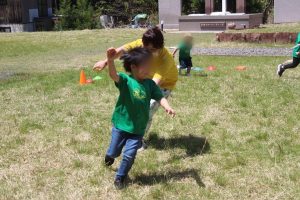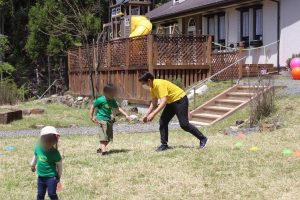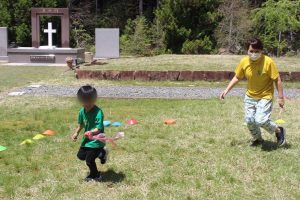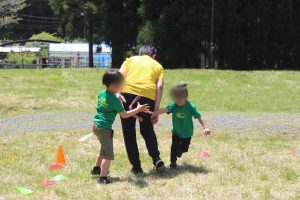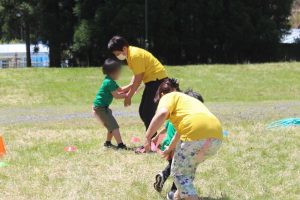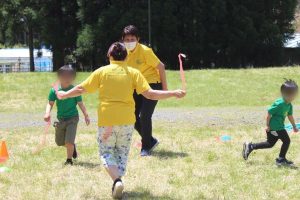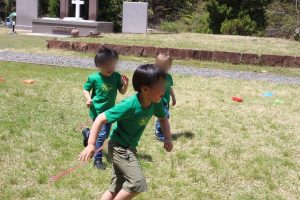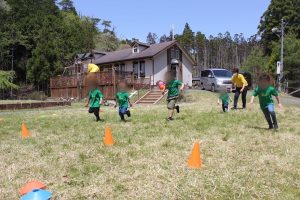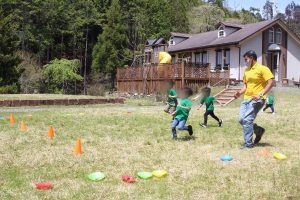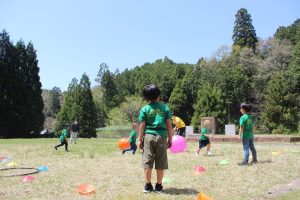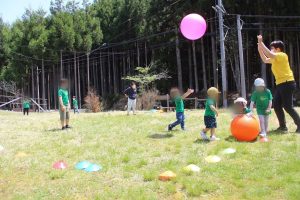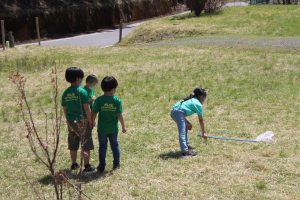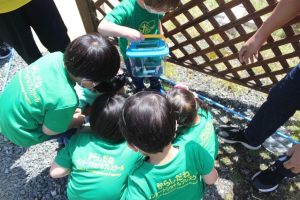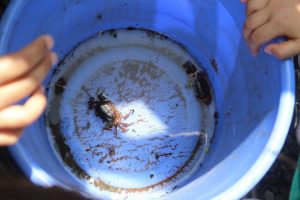 ---
August 2021
This year, we set up a new play pool in Keihoku Chapel and had water activities. Some children who were afraid of water looked a bit nervous at the beginning but at the end, they enjoyed playing with friends with nice smiles. When some students felt cold, they got into a warm bath so that they wouldn't catch cold.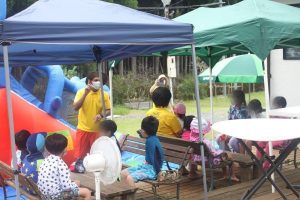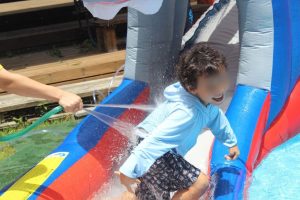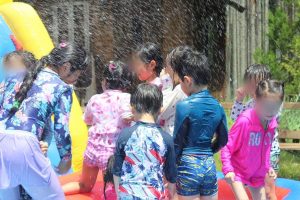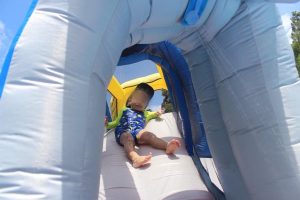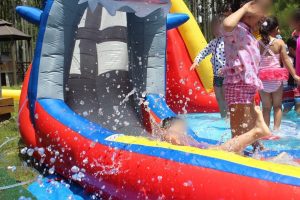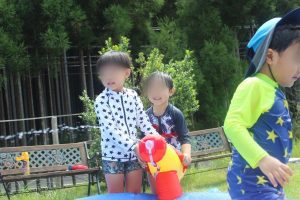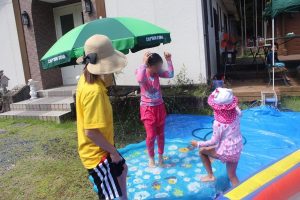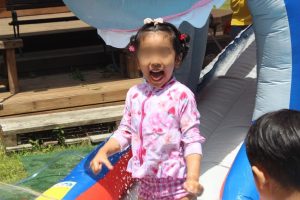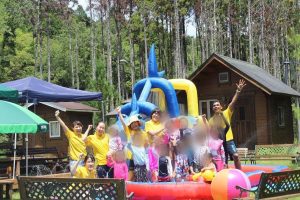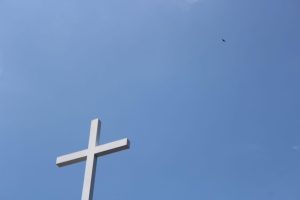 ---
August 2021
This year also, we held Special Summer Course!
The students enjoyed water activities at Keihoku Chapel, played at Kids House, and challenged toy scooping! They also enjoyed eating watermelon together with friends!
We wish all these will be pleasant summer memories for all the students. Now, new school term is about to begin! Let's brush up  English language competence through various experiences, play and discoveries!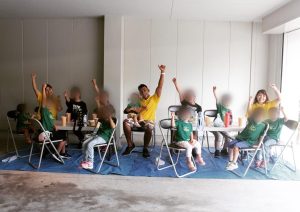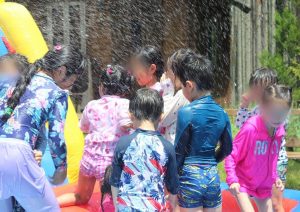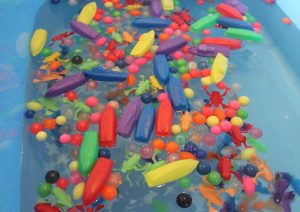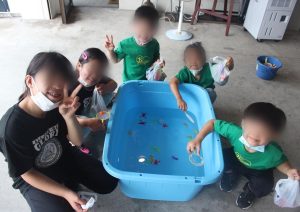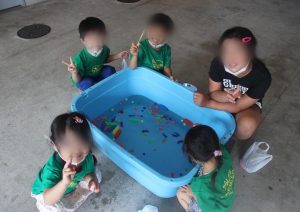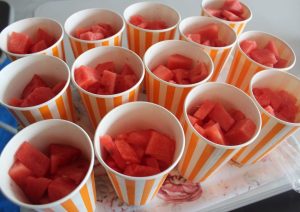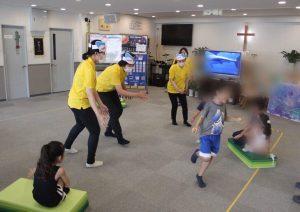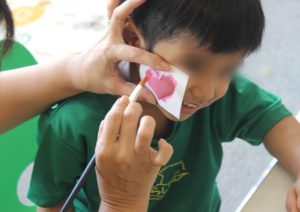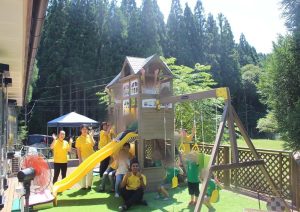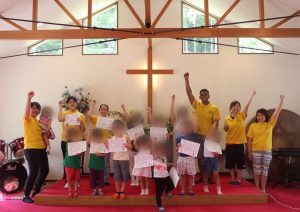 ---
July 2021
We had an outdoor Art&Craft activity. The weather forecast of the day was thundershower until the day before. However, we prayed for the weather to be blessed. Then it became a very fine day. We even felt hot! We give thanks to Jesus who heard our prayer! In order to prevent heat stroke, we put tents and fans as we carried out the activities.
Using the water color of three primary colors and brush, we learned the changes in colors. "We used only red, yellow, and blue but now what color can you see?" "I see purple!" "Here's orange!" The students we're excited to see the color variations made out of the primary colors!
Following that, we did Finger Painting Domination Game, which can be done only outdoors! The students spread the colors and enjoyed fully!
Lastly they enjoyed games using balloons! We all had a great day!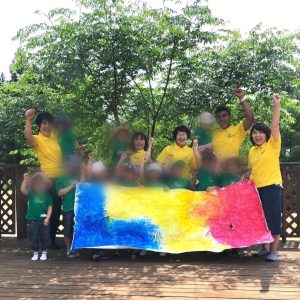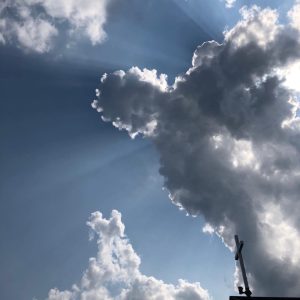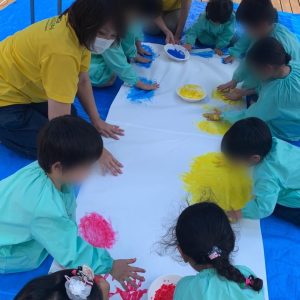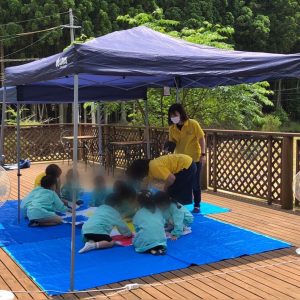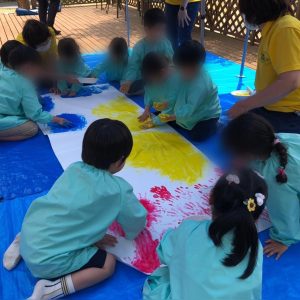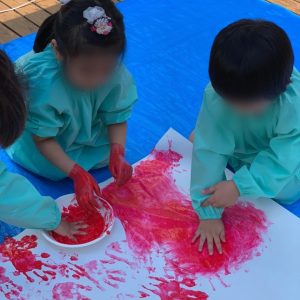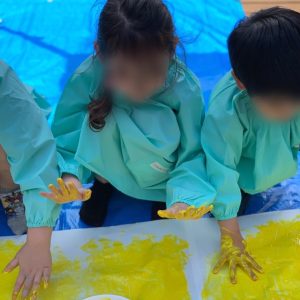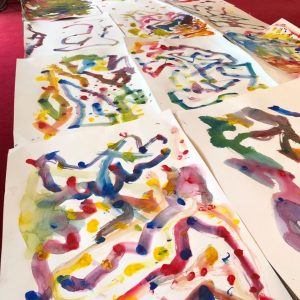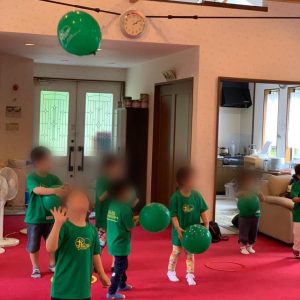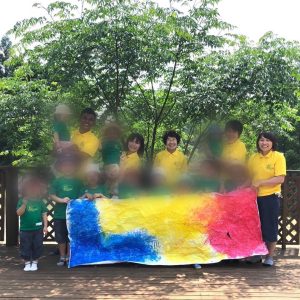 ---
June 2021
Occupation Role Play Activity
We have been learning various words related to occupation in this month.
The students had career experience, dressing up in the occupational attires.
Doctors, who gave an injection to a teacher who got injured!
Chefs who cooked meal to a teacher who became hungry!
Police officers who keep the preschool safely! Firefighters who protect the preschool from fire! Cabin attendants who take us all to airline journey!
Through the role playing activity, we wish the students be able to expand their future options!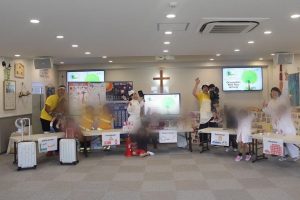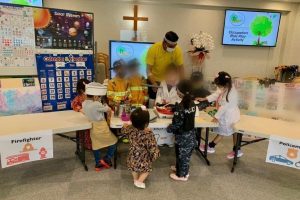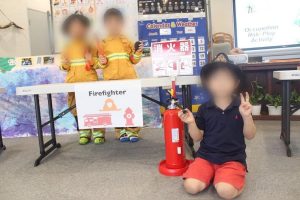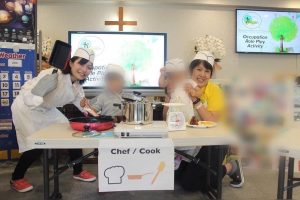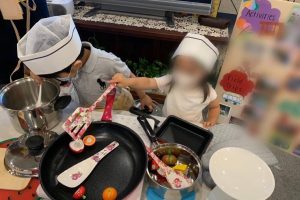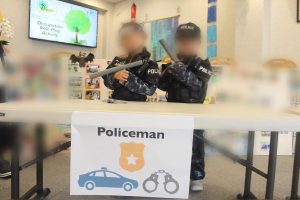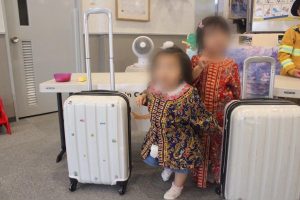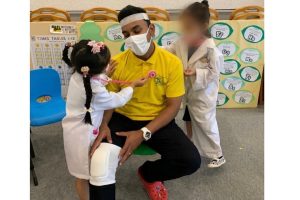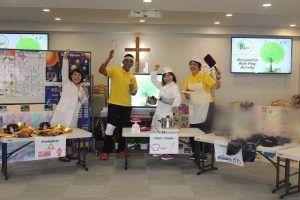 ---
June 2021
We used Balance Beam for P.E. Lesson. At first, the students could barely walk on Balance Beam but as they try more, they got a hang of it and they became able to walk on it going over or under obstacles!!  They look great when they walk on Balance Beam, stretching out their arms beautifully to keep the balance!!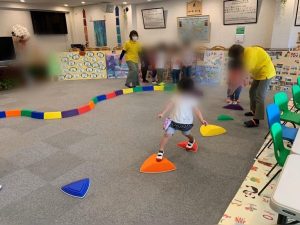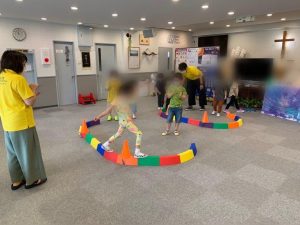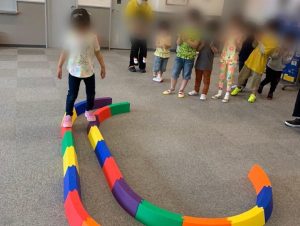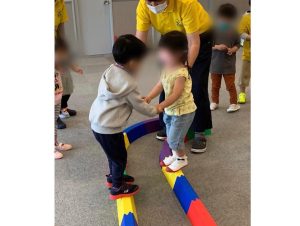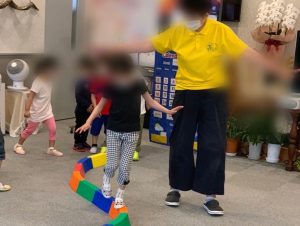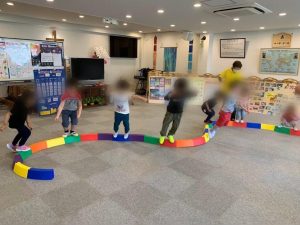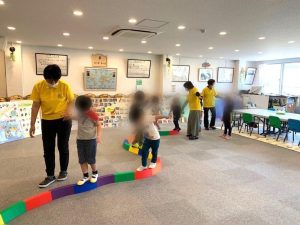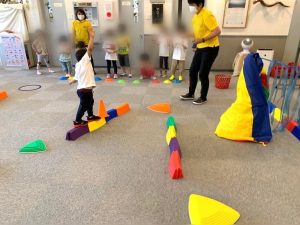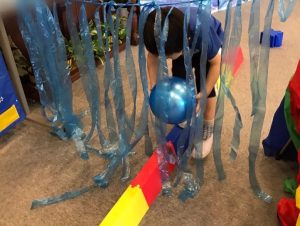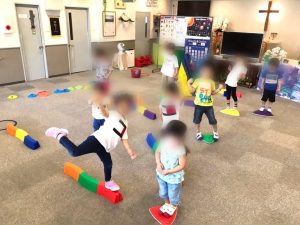 ---
May 2021
Special hand-washing lesson was conducted by our staff who is a nurse.
The students learned visually, how unclean the unwashed hands are and how they affect others. They reconfirmed the importance of hand washing!
They also learned through Quiz: Do you wash hands before or after touching a dog? Do you wash before or after holding a baby?
They enjoyed thinking and cheerfully answered the questions!
At the end, they made hand prints! 
Not only the lesson  remains in the memories of students but also it will be saved as their records!

---
May 2021
On a fine day, we sowed spinach seeds!
Seeds of spinach are red! The students were curious, wondering how come the seed is red while spinach is green.
After a close observation of spinach, the students planted two seeds in a hole, keeping enough space between holes.
Then they covered the seeds with soil and watered their gardens.
We'll enjoy the process of their growth and look forward for the harvest!
Grow big!!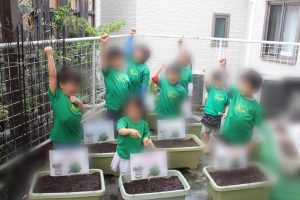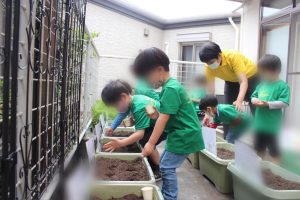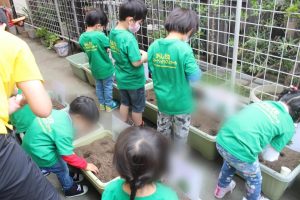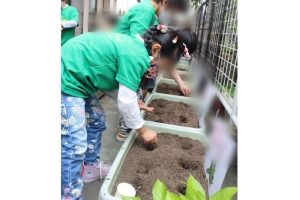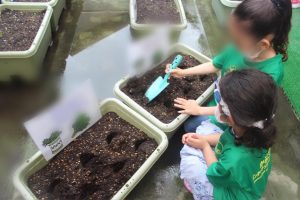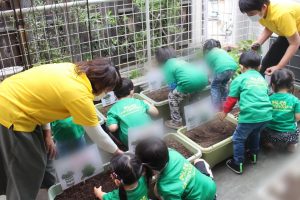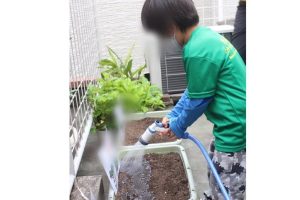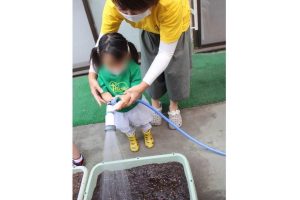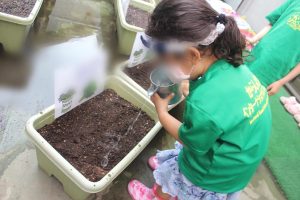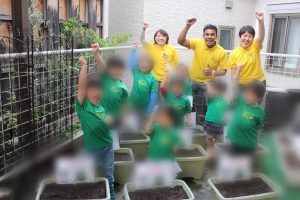 ---
April 2021
In spring, fresh bamboo shoots with skins become available.
The students peeled the skins and touched the bamboo shoots.
They were very curious of the skins of bamboo shoots which they touched for the first time.
After boiling and wash away the harsh taste, we peeled off layers of the skins and edible parts of bamboo shoots appeared.
Bamboo shoots are wearing many layers of robes
Thanks to Osaka Suijo Rinpokan for their love gift. 
 
---
March 2021
Although the preschool was closed for a period of time this fiscal year due to COVID-19, many crafts done by students were displayed! We could see the growth of the students in the colors they use and the ways they put pressure on pencils.
They could also concentrate themselves in detailed works. The students were really happy to have their parents see their crafts!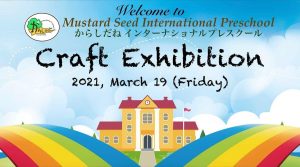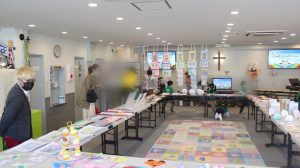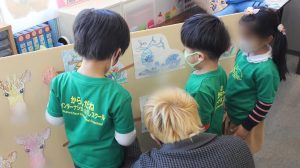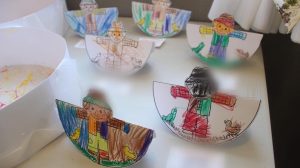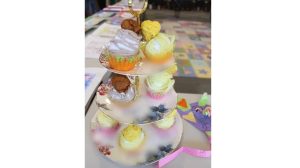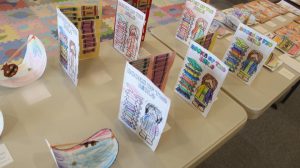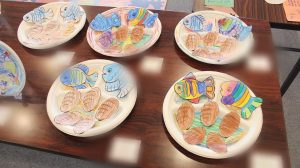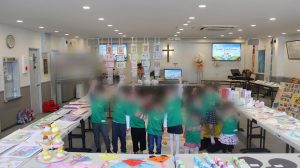 ---
February 2021
The research team from Kyoto University came and conducted a special lesson on bat.🦇 The students heard the sounds of bat, watched their faces and the moment they fly and learned about the lives of bats. The two hours lesson was very interesting and students were well concentrated and learned a lot. They were also actively participating during Q&A time all in English!  

---
February 2021
We went to a park and enjoyed flying the kites that the students made in Art & Craft lesson!! ‍ There was a slight wind which is perfect for flying kites.🪁 The students were delighted to see cute and colorful kites flying in the air!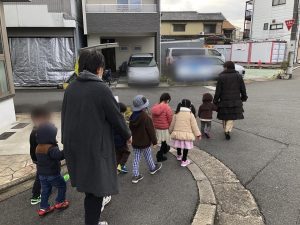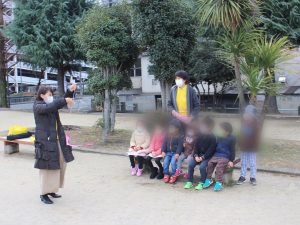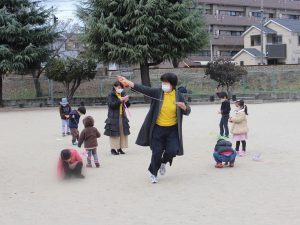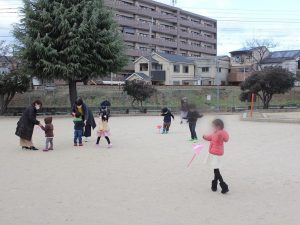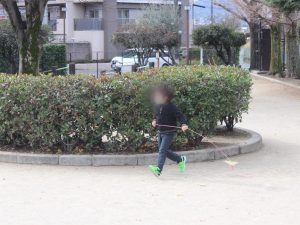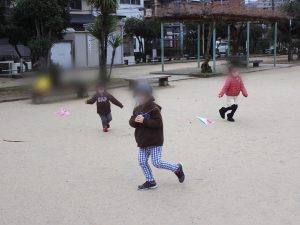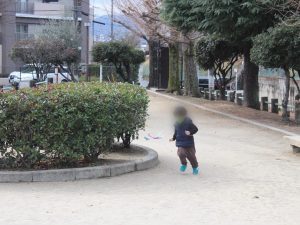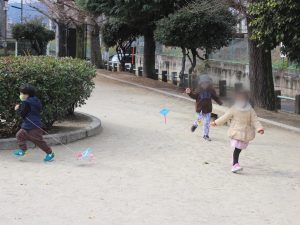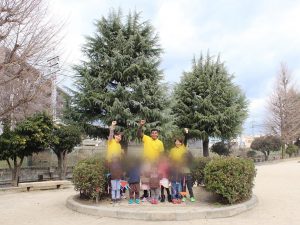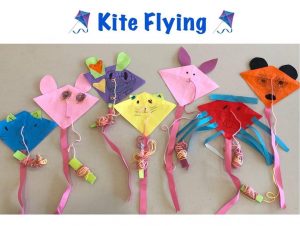 ---
January 2021
We planted tulip bulbs so that they'll bloom in spring. The students planted the bulbs and cover them up with the soil by their own hands. We're looking forward to seeing them bloom in spring! What color of flower will they be?

---
November 2020
School Doctor and Nurse came to our preschool from Kadona Sanjo Children's Clinic and we had the health checkup of autumn. The students had been learning occupations during the morning circle time in October. So when we asked them, "Who will come today?" They cheerfully answered "Doctor and Nurse!" !" ⚕ They we're excited to meet them since the morning! All the students could greet and go through the health checkup well! 🩺

---
November 2020
Under the clear sky of autumn, we had the digging experience of sweet potatoes and radish. The students dug the soft soil with their hands. And the sweet potatoes that are bigger than their face came out❗️
The students enjoyed harvesting sweet potatoes!
Next, they pulled out radish. At the count of 3, they pulled them out with all their might❗️
They had Big smiles harvesting radish with full of leaves!
We enjoyed the autumn harvest❗️

---
October 2020
We had hands-on-experience of rice threshing in this harvest season. Children asked "What's this?" When they saw the rice stalks. We explain, the tasty rice that they eat every day grow like this in rice fields. First, we took off the grains from the stalks. Then we threshed the rice and took away the chaff. The students were excited to see rice appeared! They could do the arduous task very well!  
---
 October 2020
The Okra seeds sowed in July have grown and we could harvest them!! The students ate the Okra they had grown cooked at home and told us " I like Okra!" "It was yummy!"  We could hear the great news that one of our students had never tried Okra before but since he sowed Okra seeds at our preschool, he came to like Okra!  Which vegetable shall we grow next? 

---
July 2020
We had a  hand washing—practical lesson taught by a nurse. The students washed their hands using an original device with flowing water. All the students could wash their hands thoroughly while singing the English hand washing song!
---
May 2020

Special Online Hand Washing Lesson
Due to the pandemic of COVID-19, the importance of hand washing habit is emphasized. However, at Mustard Seed International Preschool, we have had the special hand washing lesson every year since the foundation by our staff who is a nurse. Through this special lesson, the students have established the habit to wash hand thoroughly. 
This year, we had the special online hand washing lesson and enjoyed learning the importance of hand washing

‼️

Toothbrushing Lesson
The dental hygienist came to the preschool and taught the students the importance of brushing teeth. 
The students not only learned the effective way of brushing their teeth but also learned about the teeth of animals. For example, how many teeth elephants have and how many times they are replaced in their lives. The students listened and learned enthusiastically! 
After the toothbrushing lesson, the students are brushing their teeth with much more care after lunch! 

---
January 2020

SHIRATAMA MOCHI Party!
As a New Year event, we had SHIRATAMA MOCHI Party! 
We learned different types of tastes buds and enjoyed a variety of Shiratama mochi.
It was a good opportunity especially for students from international families to experience Japanese culture!
---
November 2019
HAPPY THANKSGIVING!
‍
‍
‍
We had Thanksgiving Party. Dressed in the attire of the career they want to be in the future, all the students had a wonderful day. May every students continue to grow just as a mustard seed grow into a big tree, to reach their future dreams‼️We give thanks to God who protects and blesses all the students!
---
October 2019
At our preschool, all students have their own garden. This fall, we sowed they seeds of mini carrots🥕. Some parents say that their sons/daughter do not like carrots. However, all the students are looking forward to see the growth of mini carrots, which they planted the the seeds‼️
October 2019
We had Craft Exhibition of the craft works that the students made during "Bible time" and "Art & Craft" class. They made the crafts as they learned and experienced many things, such as various stories of the Bible, color and shapes etc.  Their face were shining with joy while they explained about the craft to their parents/guardian!‍‍

Special Summer Course of the preschool begins and we had a Summer Activity.
Students were dressed in "yukata" and "Jinbei" and enjoyed catching super balls and water balloons. They had water melon, too !
We enjoyed the hot summer of Japan.
All the students looked great in yukata and jinbei!
---
May 2019
Hand Washing Lesson
Teacher Obata who is a nurse prepared the hand washing lesson to make it really fun for the children to wash hand.

 

Since the lesson, every day, all the students wash their hands properly just as they were taught‼️

---
May 2019
Fire Evacuation Training for Preschool's Staff.
Having fire fighters, the teachers and staff had training session of fire drill.
---
May 2019
THANK YOU MOMMY!! ❣️
Wishing ALL Mothers a Happy Mother's Day!
---
February 2019
• Dental Hygienist
---
January 2019
• Biblical Parenting Seminar
We invited Pst. Samuel from Singapore and learned parenting and raising a child from the foundation of the Bible. Students were also very excited to see the magics he did! We are convinced that this was a very meaningful time to hear the global standard messages which has a different view point from the ones in Japan.
---
December 2018
• Craft Exhibition
We had an exhibition of craft works of the students which they have made during Bible Time and Arts & Craft time. We the staff were touched by seeing traces of growth in each students art works.
---
November 2018
• Road Safety Seminar
Having an officer in charge of road safety has visited us from Police Station, we learned road safety rules for pedestrians, bicycles and cars. Let's keep the traffic rules and enjoy the winter vacation safely‼️
• Health Check by School Doctor
Autumn health checkup was held. All the students could greet with smile and go through health checkups.
---
October
2018
•

 
Music Concert!🎼🎤🎵🎶
This year's theme is "Jungle"!🐒🦉🐅🐿🦒🐘
The stage is in the jungle! Surrounded by many animals like monkeys, sloths and parrots, the students began to sing "Walking
in the Jungle" cheerfully!
They could sing 8 English nursery songs and praise songs very well! At the end, they received a standing ovation with a round of applause!
---
May 2018
• Health Check by School Doctor
The students had health check up by our school doctor.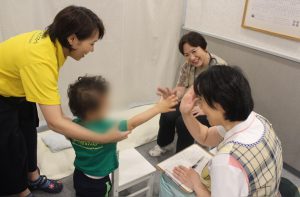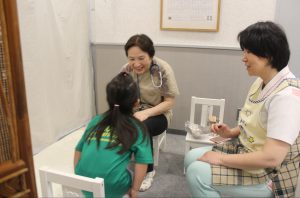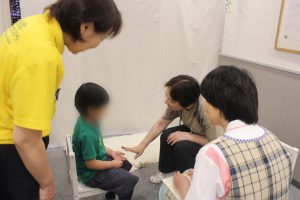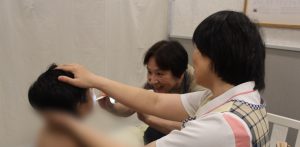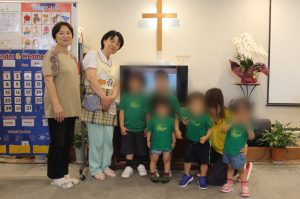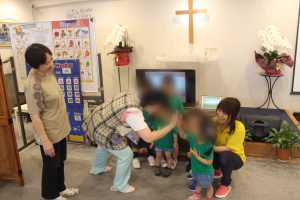 ---
March 2018
• Music Concert 2018
Students performed the songs they learned at the preschool at the Music Concert. At the end of the concert, they were dressed as super heroes and princesses and sang, Jesus, You're My Super Hero! We also had an encore, too called by our audience! 🙂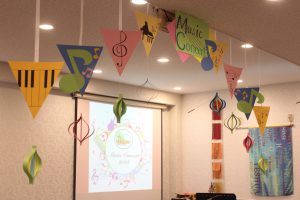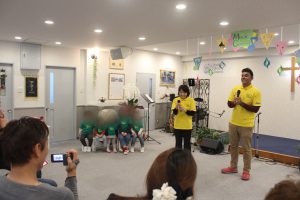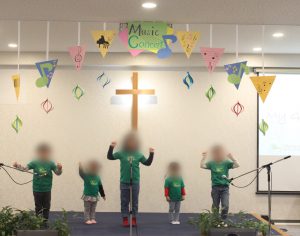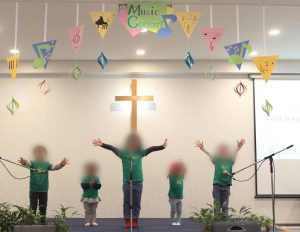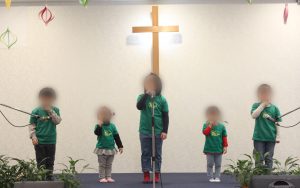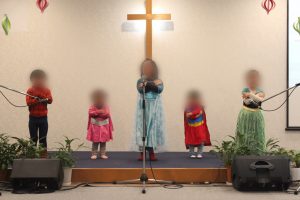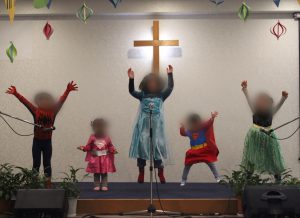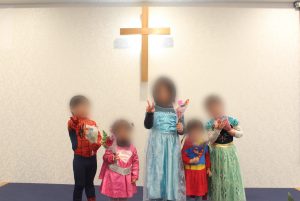 ---
February 2018
• Purim Festival 2018
On Feb. 28 we celebrated "Purim" which is written in the book of Esther in the Bible. We had a guest from Israel who told us the origin of "Purim," how it is celebrated in the world, and why we dress up in various costumes on the day. Cookies called "Oznei Haman (Haman's ear)" which is essential to celebrate "Purim" were given and the students were dressed up in various costumes and enjoyed the day.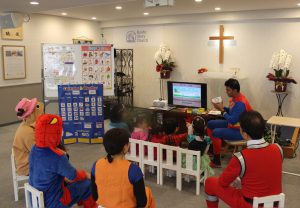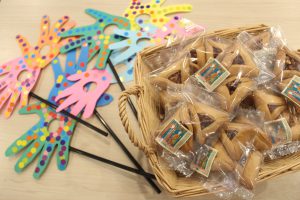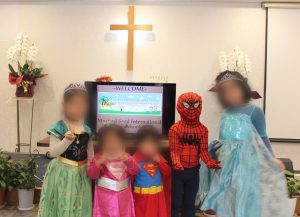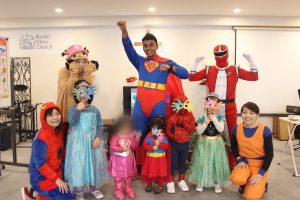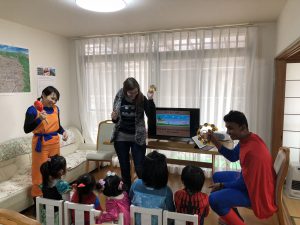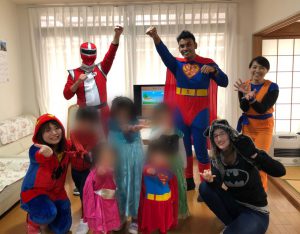 ---
January 2018
• Exhibition Day!
All parents and grandparents were overjoyed to see their child's and grandchild's art works! WELL DONE STUDENTS! GOOD JOB!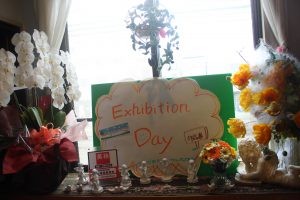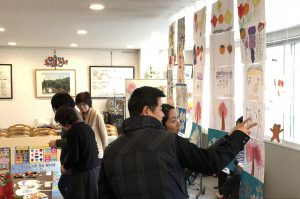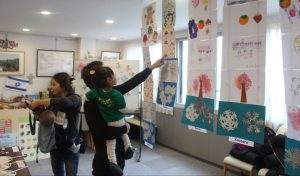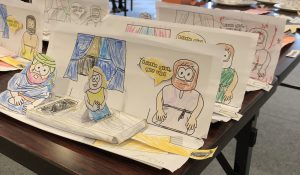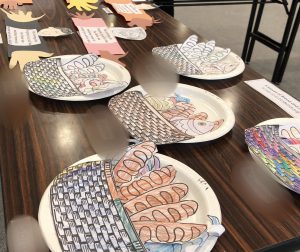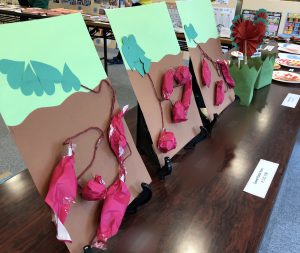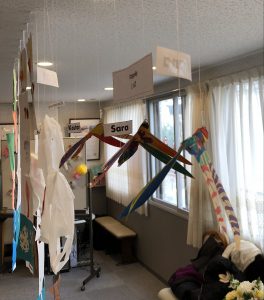 ---
December 2017
• 

Christmas Party!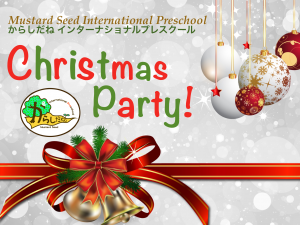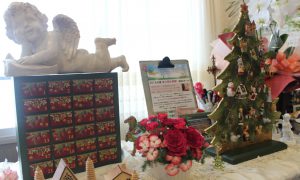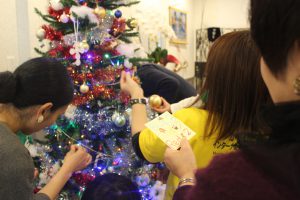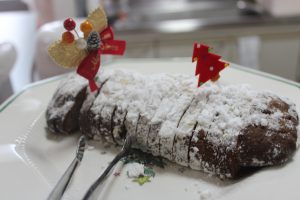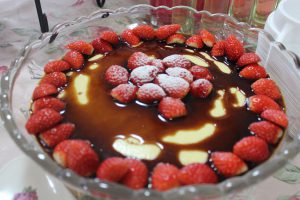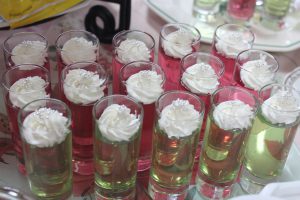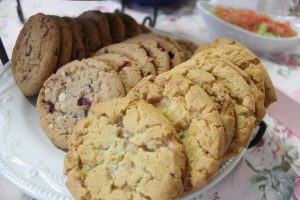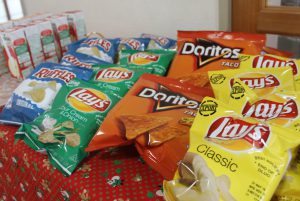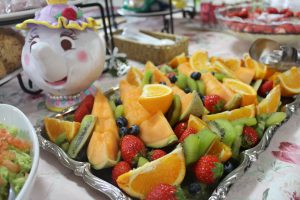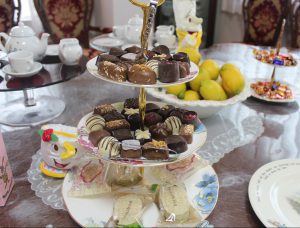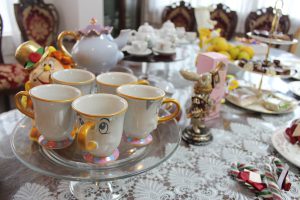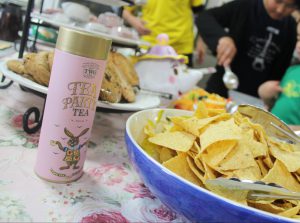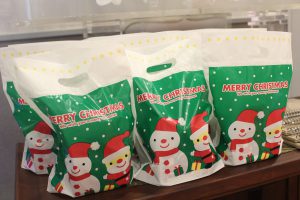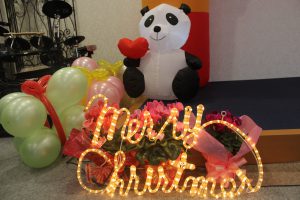 ---
October 2017
• DANCE Talent Show
Besides cute dance, the students performed hip-hop dance, too. You all were so cool!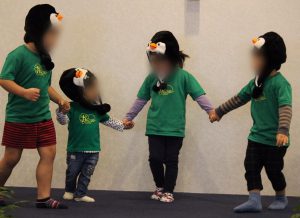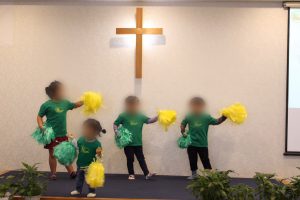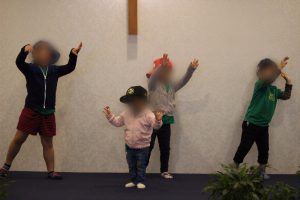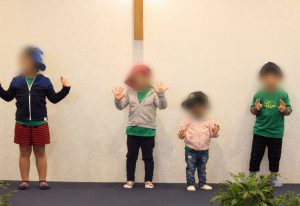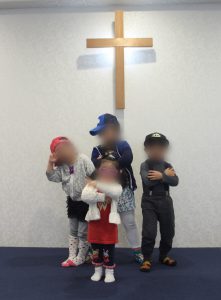 • Solfege 
class by our Professional Teacher! 
 
---
September 2017
• Music Concert 2017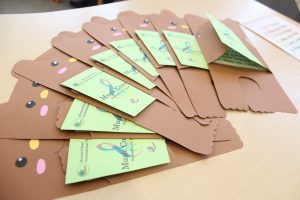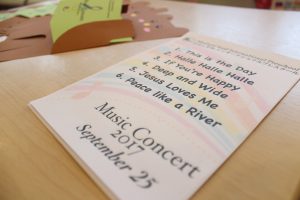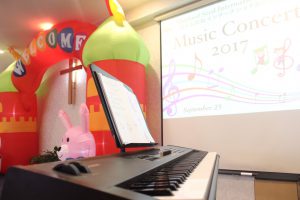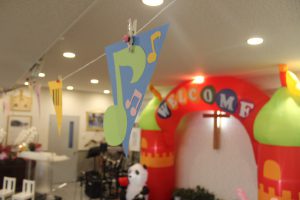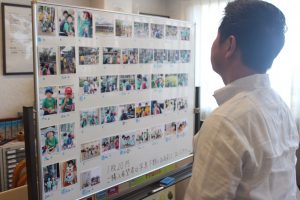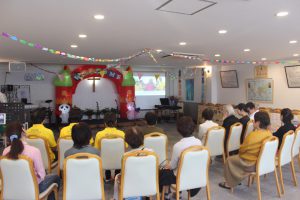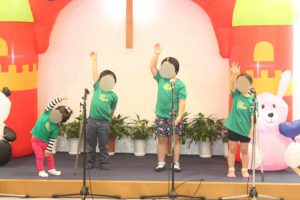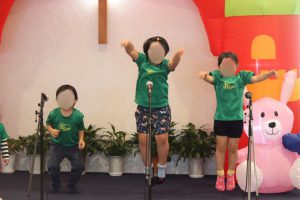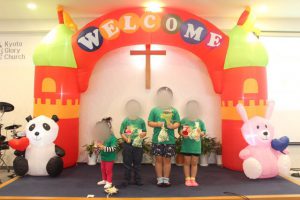 ---
June 2017
• Students learning the proper way to wash their hands.