December 2022
Today was the last day of preschool!
We had Christmas Party, and enjoyed playing 
fun games and craft time. ♬
We also presented the Eiken Jr. certificate. 
Have a nice winter break everyone! 

---
November 2022
We had Sports Day on Oct. 29 (Sat.)! 
The students enjoyed Sprint, Dance, Tug of war, Ball toss game, etc.
Since all the students strived hard, medals and goodie bags were given from Mustard Seeds Academy.
After Sports Day, we had Pancake Celebration! 
Parents, thank you for participating through zoom.

---
March 2022
ᕼᗩᑭᑭY ᑭᑌᖇIᗰ!!
We celebrated Purim Festival at Mustard Seed International Preschool!!
Students were all dressed up in superhero costumes!
From Israel 
 where Bible stories took place, we learned about the origin of Purim Festival and about Queen Esther. We also learned some Hebrew words related to the festival!!
We had traditional Israeli food, falafel sandwich
 and schnitzel, for lunch! Of course, we had vegetable sticks with hummus 
𝕊𝕦𝕡𝕖𝕣𝕙𝕖𝕣𝕠𝕖𝕤 𝕨𝕙𝕠 𝕔𝕖𝕝𝕖𝕓𝕣𝕒𝕥𝕖𝕕 𝕀𝕤𝕣𝕒𝕖𝕝𝕚 𝔽𝕖𝕒𝕤𝕥 𝕒𝕟𝕕 𝕒𝕥𝕖 𝕀𝕤𝕣𝕒𝕖𝕝𝕚 𝕗𝕠𝕠𝕕 𝕤𝕒𝕪 "ℂ𝕙𝕖𝕖𝕤𝕖!" 𝕚𝕟 𝔾𝕠𝕥𝕙𝕒𝕞 ℂ𝕚𝕥𝕪!

---
February 2021
This year also we celebrated "Purim Festival" at our preschool
The theme of this year was "Super Heroes!" The students had a great time, dressed in their favorite hero costumes, listened to the story from Book of Esther in the Bible which is the origin of the feast and made crafts relating to the festival! 
They also received the traditional sweets eaten at the Purim Festival, "Hamantaschen (Haman's Ear)
"

---
December 2020
𝐂𝐚𝐧𝐝𝐥𝐞𝐥𝐢𝐠𝐡𝐭 𝐒𝐞𝐫𝐯𝐢𝐜𝐞-𝐌𝐢𝐧𝐢 𝐂𝐨𝐧𝐜𝐞𝐫𝐭 
 was held and the students of Mustard Seed International Preschool performed also. Their performance was wonderful thanks to all the efforts they had put into! Certificate of Mathematics Certification Exam was also presented to the student. Let us continue to learn many things in coming year!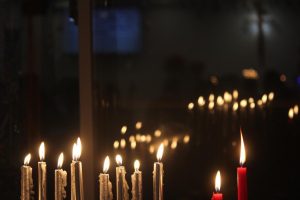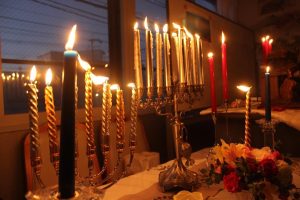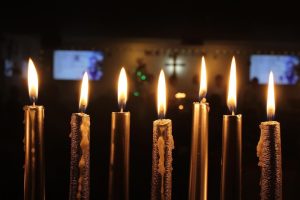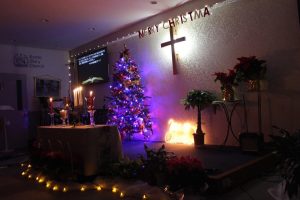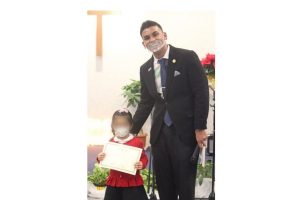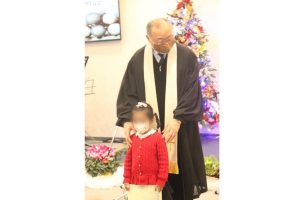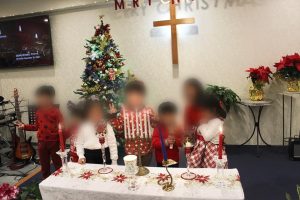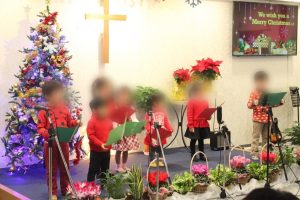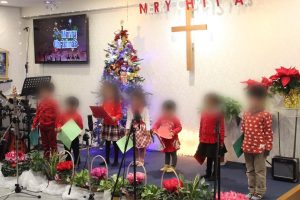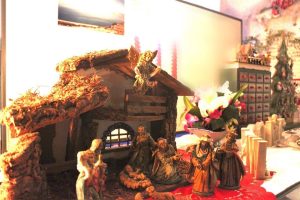 ---
December 2020
Christmas Party was held. 
The students could showcase songs and dance! 
 They had been practicing for this day! They performed very well in singing and day. In Christmas Recitation, they recited clearly and excellently!
They also could listen intently as police officers
 taught them about the road safety. 
 Let's keep the traffic rules as we enjoy the winter holidays!

---
January 2020
As a New Year event, we had SHIRATAMA MOCHI Party!
We learned different types of tastes buds and enjoyed a variety of Shiratama mochi.
It was a good opportunity especially for students from international families to experience Japanese culture!

• Kids Christmas Party 2019

 
Kids Christmas of the whole Mustard Seed Academy was held on December 21, and the students and their friends enjoyed the variety of programs. During the event, the preschool students took a part in the musical play done in all English. It was a great experience for the students to work together with elementary school, junior high school and high school students.
On the day the students were awarded for their achievements for this year from the principal. The faces of the students were alight with accomplishment!
---
•
Preschool's Christmas Party 2019 
---
• Winter Concert 2019
On December 19, Winter Concert was held at Kyoto Glory Church. Our preschool students and the family also enjoyed the great performance by Grammy Award winners, Nikko Lowe, John Fluker, and Tim Kepler. The venue was packed and was filled with excitement. We all enjoyed the great music as well as the wonderful Bible message by Pst. Shuji Hiraoka. The preschool students were honored to be able to present the bouquets to the wonderful guests!
---
November 2019
•
Mustard Seed Academy's Sports Day 2019
The 1st Mustard Seed Academy Sports Day was held. Under the clear autumn sky, the students of each school under Mustard Seed Academy got together and competed with full of energy. They enjoyed autumn, the great season for sports‼️
‍♂
♀
• Sports Day 2019
The 1st Mustard Seed Academy Sports Day was held. Under the clear autumn sky, the students of each school under Mustard Seed Academy got together and competed with full of energy. They enjoyed autumn, the great season for sports‼️
‍♂
♀
---
August 2019
• Summer Concert 2019
On a big stage and in front of more than 250 people, the students sang, danced and recited English speech. Although there was a number of students who could not attend due to their health, the students did well and covered for the classmates who were absent. Surely, it will become an invaluable and worthy experience for the children that they performed in front of many audiences!
---
July 2019
• International Carnival
We held International Carnival this year also. The students and the family participated the events. All the students enjoyed delicious Asian foods and many fun games.
The graduates and a friend who is on a long vacation also came and participated, so students were excited for the reunion‼️
Preschool will enter its summer recess. Enjoy your summer vacation ‼️
🏼
---
December 2018
• Christmas Musical
Kids Christmas Party for whole Karashidane Academy students was held. Within the party, original musical play with the script written by the junior high school and high school students of our academy was performed. Our preschool students played adorable sheep!
• Winter Concert!
They had been able to have fellowship with many people from many different countries. Last guest of this year was the artist of Grammy winner! They could present a bouquet of flowers without any hesitation! It would be a great treasure for them in the future that they could have this kind of cross-cultural communication when they are very young!
---
October 2018
• Harvest Festival!
🥕
Big tree laden with fruits appears in the classroom! Surrounded by many autumn harvests. Students enjoyed playing games; trying to guess just by touching sweet potato, pumpkin, chestnut… and plucking many autumn fruits from various trees.
Then we had time to sow seeds of vegetables in real soil! Students got excited to see buds! We are looking forward to see the harvests!
---
July 2018
• International Carnival!

On 21st we had the long-awaited "International Carnival"!! They could enjoy eating many foods from a variety of countries and playing many kinds of games tremendously! More than 100 people including friends from Israel came and had a fun time.
---
March 2018
• Easter Festival
We had Easter Festival as a part of trial lesson of the preschool. We listened to the Easter message and enjoyed the games with many friends.